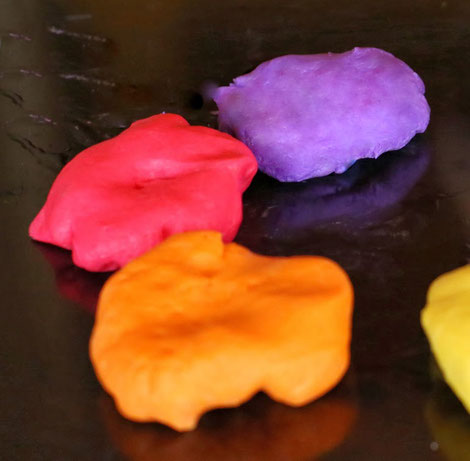 Kids love to play with playdough!  Playdough allows for limitless possibilities, where kids can create (and then squash) anything, letting their imaginations run wild.  Playdough is also an excellent tool for building up fine-motor muscles in the hands and fingers.  All that squishing, squeezing and squashing makes it easier to hold a pencil or use scissors in the future.  We use a lot of playdough in our programs, and we are happy to share our recipe.
Ingredients
2 c white flour
2 c water
1 c salt *
2 tbsp vegetable oil
1 tbsp cream of tartar
(optional) Jello mix, sparkles, food colouring, etc.
 * If you have hard water, you may need to use less salt in order to get it to all dissolve.  Start with 1/2 cup and go from there.
Instructions
In a large saucepan, dissolve the salt in the water
Add flour, oil and cream of tartar to the pan
Mix all ingredients together
Cook on the stove over low heat stirring constantly until the dough comes together in a ball
Let cool for 1 minute, then knead dough together
 Enjoy!  Store this playdough in a sealed Ziploc bag.