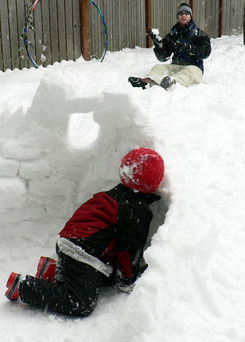 Colder temperatures and shorter days make staying inside much easier during the winter months. Even the most active children may hesitate to run around and play outside when the weather is frosty. Parents must work a little harder to ensure that children get the exercise and physical activity that is so important for their growing process and mental health.
It is estimated that children burn only half as many calories during the winter as they do in the summer. Not only does the lack of exercise have a negative effect on their physical well-being, it also allows kids to store up a lot of unused energy.
Schedule indoor activities
Wellness centers or gyms often have classes specifically for kids. Just walking around the shopping center with your kids is a good way to get moving too. You can even take the stairs instead of escalators or elevators. There are lots of indoor playgrounds or entertainment options like arcades, bowling alleys and laser tag establishments.
Exercise together at home
There are lots of exercise videos that are geared toward younger audiences. You can find videos that include aerobics, dance, yoga, and even martial arts. Get involved and get fit in family.
Bundle Up and Go Outside Anyway
Yes, it's cold, but that doesn't mean that your children have to spend all of their time indoors. Unless it's truly freezing, dress everyone appropriately and head outdoors for a brief walk or play with the snow. Breathe in the fresh air, enjoy the sunshine, and then head back indoors to warm up with a cup of hot chocolate.
Winter is another season of the year. Teach your kids to enjoy each one of them while developing healthy habits and a good attitude.
Join the West Hillhurst Community Preschool
We offer classes three and four-year-old children. Using a play-based curriculum, our children develop the social, emotional and intellectual skills to help them lay a strong foundation as they move forward through more formal schooling. Using the in-house facilities of the community centre including the ice rink and playground, we are able to offer a selection of unique activities as part of our regular curriculum.
Visit our website for more information and registration details: www.westhillhurstpreschool.com