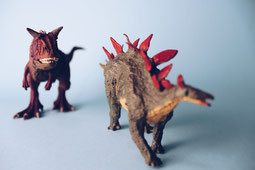 - By Hector Flores -
The children at the West Hillhurst Community Preschool have been learning about dinosaurs and animals during the last couple of months. This is a very fun way to learn about Natural History, Biology and Zoology. In addition, our children are learning to appreciate and respect life.
Dinosaurs and animals are the perfect triggers to a naturally occurring psychological phenomenon known as 'Extremely Intense Interests' (or EII's). These themes can help kids become more observant, increase their attention span, develop a fact collecting behavior, and promote efficient information processing skills.
The West Hillhurst Community Preschool offers classes for three and four-year-old children. Using a play-based curriculum, our children develop the social, emotional and intellectual skills to help them lay a strong foundation as they move forward through more formal schooling. Using the in-house facilities of the community centre we are able to offer unique activities as part of our regular curriculum.
Our registration for 2019-20 is open for both our regular programming in English and our Spanish programming that introduces the kids to a new language through playful activities and music.
For more details please visit our website: www.westhillhurstpreschool.com
Photo credit: www.quotecatalog.com