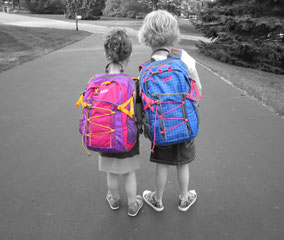 By Hector Flores
The first day of a new preschool, can be a mix of excitement and anxiety for both children and their parents. While some children just turn around and run excited to meet their classmates and teachers, others just can't bear being separated from mom or dad. Some tears and anxiety can be normal the first day, but this behaviour can be extended for weeks or months if timely actions are not taken.
As you prepare to drop your child off at preschool, keep in mind the following tips to help your child cope with separation anxiety:
Confidence starts with you. If parents hesitate, kids will feel unsafe. Get to know the people that will take care of your child to gain some trust and peace of mind.
Start with a warm up. Bring your child to visit the school a couple of times before the first day.
Create a goodbye ritual. This routine can ease some of the anxiety and set a positive tone and mindset related to going to Preschool.
Send clear and positive signals. Acknowledge your child's feelings and normalize their worries. It's good to talk about what's going to happen.
Stick to a routine. Children will respond better when they have plenty of rest, eat a nutritious breakfast and don't feel rushed.
Create expectation. Speak with your child about exciting things that will happen in their next class. Get involved and keep in constant communication with your Preschool staff.
Join the West Hillhurst Community Preschool
The West Hillhurst Community Preschool offers classes for three and four-year-old children. We strive to create strong relationships with our families, adding to the community spirit. Our classroom gives a warm and caring environment where children can learn through play while meeting the physical, social, intellectual, creative and emotional needs of each individual child.
Our preschool also has a fantastic partnership with Davidson's Orchards, located in Vernon, B.C.
We will be selling boxes of these delicious apples in September at an incredible price. More details can be found on our website. 
For more information please visit our website: www.westhillhurstpreschool.com