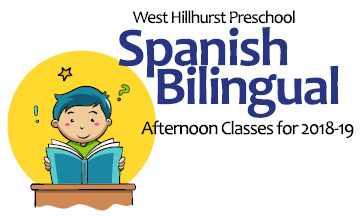 Our children are growing up exposed to more than one language, whether because they live in a multi-cultural environment or a multilingual household. In addition, the new technologies allow us to have communication and media in a wide variety of languages.
Multilingual kids tend to be outstanding problem solvers. They have better memories and are able to recall things more quickly. Once they know two languages, they can easily acquire a third language or beyond. This ability also helps them have a better capacity to learn new concepts quickly.
We are pleased to announce the return of Ms Giulliana to the West Hillhurst Community Preschool.  Our M/W/F afternoon classes for 2018-19 will be bilingual, taught in English and Spanish by Ms Giulliana. As well, there will be a Spanish language session in our Tu/Th afternoon classes.
The West Hillhurst Community Preschool offers classes for three and four-year-old children. Using a play-based curriculum, our children develop the social, emotional and intellectual skills to help them lay a strong foundation as they move forward through more formal schooling. Using the in-house facilities of the community centre including the gym, ice rink, soccer field, and playground, we are able to offer unique activities as part of our regular curriculum. 
For more information please visit our website: www.westhillhurstpreschool.com